Bohemian Meets Luxe Master Suite – Design Plan
Earlier this month I introduced my latest client project – a master bedroom and en suite bath renovation in the most charming, just shy of a century, old home. Today I'm excited to dive deeper and share the design plan and process with you!
As a refresher, here's how the space looked in the beginning:
There were so many lovely details like the free-standing tub, the clients' existing whimsical art, and antique dresser surrounded by hanging jewels. I instantly got a casual Parisian vibe, envisioning a cozy bedroom getaway in that covetable blend of carefree-bohemian meets total luxury.
That tub was serving up some serious inspiration so I started with the bathroom design first.
While the goal was for a major transformation, the clients hoped to achieve it on a conservative budget. We knew we'd need to invest a large portion on the new bathroom vanity and lighting, plus the corresponding plumbing and electrical expenses. For that reason I employed the best cost-effective method for making a big statement: Paint. And since the bathroom is large with an abundance of natural light I knew we could afford to go bold. These were some of the images I gathered for color inspiration:
Similar to many of the above images, I opted to paint just the bottom third of the room. It's a way to inject personality and interest without sacrificing the practicality of getting ready in a naturally bright white bathroom. I'm all for dark and daring baths, but when it comes to the room you'll be applying your makeup in (camouflaging dark circles on the daily, if you're like me...), preserving every ounce of flattering, even light with a wall color that doesn't make you look as tired as you feel is always a plus.
After choosing the paint color direction came the fun part of searching for the individual elements and creating a mood board to show my clients how they'd all relate to one another.
Can you see the vision?? A clean-lined vanity contrasted against a vibrant wall color, simple thin-framed mirrors flanked by statement-making sconces, each element made all the more interesting with the mix of rich and eclectic textiles, plus hanging plants on plants on plants for that fresh, just bathed in the jungle, spa-like feel!
We were starting out with the above setup so the main objectives with this update were to Incorporate a bigger double sink vanity, generally beefing up the storage and usable counter space, as well as to introduce better lighting. Since we had a large wall to work with I knew a classic layout like those featured in the below images would work well.
I'm so excited to show you where we ended up, but for now, let's move on to the bedroom plans!
Because I was going a little bolder in the bathroom, I wanted to keep the bedroom a bit more casual. There's something so inviting about a space that feels pulled together with rich furnishings, but still has the care-free and comfortable quality of layered textiles and subdued pattern-mixing. The below inspiration images were two of the many that seemed to typify my bohemian meets luxe goal.
Ultimately, since the paint color was already such a statement in the bathroom I decided it best to keep the bedroom walls light and neutral. I also wanted the other major textiles like the area rug and curtains to remain neutral as well, but with some subtle pattern for interest. But the bed, the bed I thought could stand to go full-scale luxury. And what's more luxurious and regal than a navy velvet tufted bed? The bold blue of the bed would help to create consistency with the bathroom design, but including softer touches of blush pink via art and a cozy side chair would prevent the room from feeling too formal or serious.
Overall, my clients were happy with this direction, they just had some reservations about the proposed rug. The idea of a soft and cozy Moroccan-style rug underfoot was pretty compelling, but they worried about it being white and the inevitable rogue coffee spills and general upkeep involved in keeping it from looking dirty. Aiming to please I set out to find a better option and ended up going a tad overboard: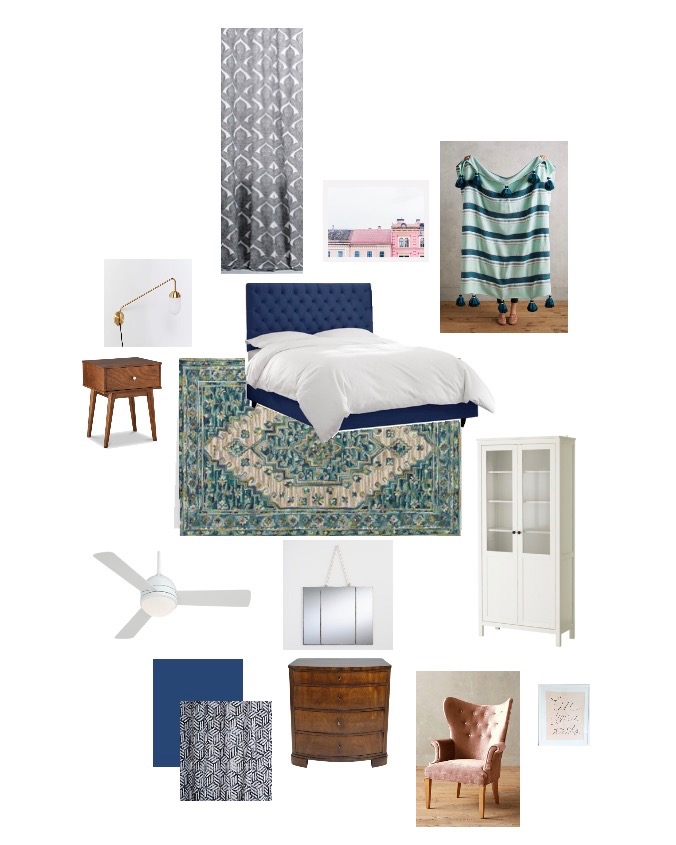 I still felt like neutral was the way to go, but wanted to provide alternatives just in case it was feeling a little lackluster to the clients. Out of the proposed options they selected this light pink rug from World Market. In theory it should've worked. It looked great in the mood board, but, sadly, once it arrived the colors just felt dull and dingy. And though I was going for contrast, the fabrication was way too casual with the velvet headboard.
So I went back to my original idea and searched for a neutral rug, this time making sure to avoid anything stark white and looking for one with enough intricate pattern to hide mishaps and provide for easier maintenance. In the end we chose this one from RugsUSA. And, yay!, it's perfect for the space.
This post is getting crazy long-winded (which I've begrudgingly come to accept is sort of my thing...). So for everyone's sake I'll simply close with this little sneak peek of how it all came together! Check back soon for the final reveal!